How to Build Your Custom Model
Here are 3 lists (2 organic compounds, 1 inorganic) you can use in your test drive. Copy up to any 10 of these into the
3D Molecular Model Builder
. Or, up to any 10
organic
compounds (unfortunately it doesn't build crystals). Then follow the instructions. Type carefully, the wrong syntax will cause an error. The
video below
can guide you.
These models can be built in 3 slightly different styles as illustrated below and based on our standard
Orbit Model Sets
. You simply choose the style you prefer to return the appropriate parts.
Orbit Flexible
is the most versatile.
Organic Molecules 1-10
Propane
Ethanol
Acetic acid
1,1-dimethylcyclohexane
cis-1,2-dimethylcyclohexane
trans-1,2-dimethylcyclohexane
cis-1,3-dimethylcyclohexane
trans-1,3-dimethylcyclohexane
cis-1,4-dimethylcyclohexane
trans-1,4-dimethylcyclohexane
Organic Molecules 11-20
Ethane
Butane
Cyclohexane
Sucrose
Ethylene
Acetic acid
Acetone
Acrylamide
Nicotine
Styrene
Top Inorganic Molecules 1-10
Perchloric acid
Sulphuric acid
Carbon monoxide
Carbon dioxide
Phosphoric acid
Ammonia
Sodium bicarbonate
Nitric acid
Hydrochloric acid
Hydrogen cyanide
Orbit Bond Types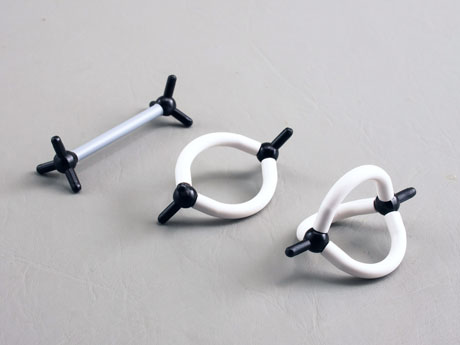 20mm: hydrogen; 30mm: C-C, C-O; 35mm: P-O
Orbit Basic Set:
Ideal for GOB Chemistry
Builds organic, inorganic & biomolecules.
Builds all essential functional groups
16 sp3 carbons, 18 hydrogens & more.
Shows basic VSEPR theory.
Can show important reaction mechanisms.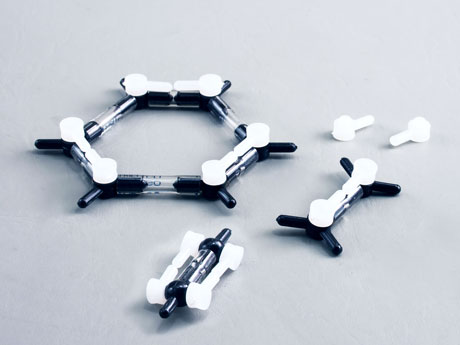 X-pegs with trigonal atoms for flat rings.
Orbit X-peg Bond Set:
Biochemistry: 200 sp3+25 sp2 carbons
X-peg inserts for double or triple bonds
Builds flat rings for DNA model.
Build structures for TCA & other cycles.