Sodium hypochlorite is the most commonly sold form of chlorine disinfectant. Chlorine and bleach are used interchangeably but dissolved chlorine comes in different forms. The type used for disinfection and in your laundry is sodium hypochlorite. The term bleach originally referred to the chemical reaction that remove stains or color from fabric.
Daycare/Preschool/Childcare Cleaning/Disinfection Checklist
Are you involved in keeping a daycare, preschool or childcare facility clean and safe? Try our handy checklist for areas to cover and tips on how to ensure you are doing it properly by testing with our test strips. Having trouble figuring out dilutions properly? We have dilution calculator to make it a lot simpler. A more detailed version in PDF format is ready for print or download.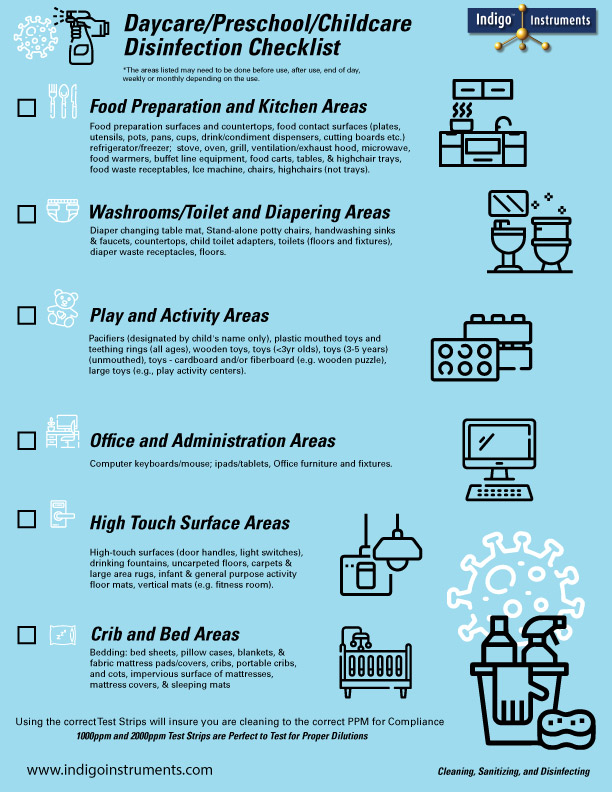 Click here for more information about chlorine disinfectant.
How to Use Chlorine Test Strips?
Instructions for chlorine strip use is the same regardless of concentration range.
Remove test strip from vial.
If paper, dip any end in bleach solution
If plastic, dip pad end in bleach solution
Remove and compare immediately to color chart
1 tbsp=15ml
1 cup=235ml (or round up to 250ml)
1 quart=950ml ((or round up to 1000ml
1 Gallon=3800ml (or round up to 4000ml
To make 1 gallon of 200ppm chlorine bleach solution, enter these in the Dilution Calculator.
5.25% for the concentration (step 1).
Then 200ppm for step (2).
Then 3800ml for step (3)
Press Calculate.
Result: Amount of chlorine bleach you need to mix with water.