Pick the Molecular Model Set That Suits Your Needs Best
Here are 3 lists (2 with organic compounds, 1 with inorganic compounds) you could encounter in your studies. Copy up to any 10 of these into the
3D Molecular Model Builder
. Or, up to any 10 compounds your instructor suggests. Then follow the instructions. Type carefully, the wrong syntax will cause an error. The
video below
can guide you.
Organic Molecules 1-10
Propane
Ethanol
Acetic acid
1,1-dimethylcyclohexane
cis-1,2-dimethylcyclohexane
trans-1,2-dimethylcyclohexane
cis-1,3-dimethylcyclohexane
trans-1,3-dimethylcyclohexane
cis-1,4-dimethylcyclohexane
trans-1,4-dimethylcyclohexane
Organic Molecules 11-20
Ethane
Butane
Cyclohexane
Sucrose
Ethylene
Acetic acid
Acetone
Acrylamide
Nicotine
Styrene
Top Inorganic Molecules 1-10
Perchloric acid
Sulphuric acid
Carbon monoxide
Carbon dioxide
Phosphoric acid
Ammonia
Sodium bicarbonate
Nitric acid
Hydrochloric acid
Hydrogen cyanide
Orbit Bond Types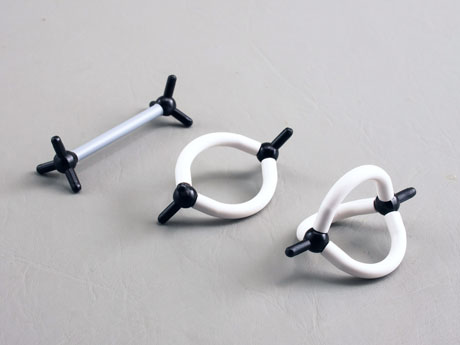 20mm: hydrogen; 30mm: C-C, C-O; 35mm: P-O
Orbit Basic Set:
Ideal for GOB Chemistry
Builds organic, inorganic & biomolecules.
Builds all essential functional groups
16 sp3 carbons, 18 hydrogens & more.
Shows basic VSEPR theory.
Can show important reaction mechanisms.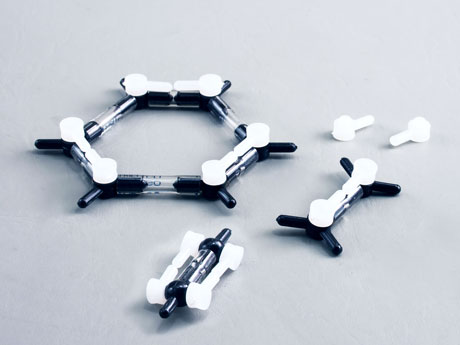 X-pegs with trigonal atoms for flat rings.
Orbit X-peg Bond Set:
Biochemistry: 200 sp3+25 sp2 carbons
X-peg inserts for double or triple bonds
Builds flat rings for DNA model.
Build structures for TCA & other cycles.
Indigo® Wobbly™ bonds will last just about forever. However, the trade off is that they are very stiff on initial use & may be difficult to use for younger students. Try putting the bonds in your pocket or in the sun for a little while before using them, this should loosen them up enough.