Peracetic Acid Disinfectant-Sanitizer
Peracetic acid is an organic compound used as an eco-friendly sanitizer, disinfectant, or sterilizer in the food industry where food safety can be compromised by microbial contamination. It has a better germicidal response than hypochlorite and can inactivate Gram negative bacteria although is less effective against Gram positive bacteria. Nevertheless, PAA is a colorless liguid that is an effective antimicrobial agent used in processing poultry, meat, seafood, eggs & is certified as an organic produce wash. Food processors find that ~80 ppm of PAA works well when the sanitizer is in direct contact with the food item.
For sanitizing food processing equipment hard surfaces, higher concentrations, up to 500 ppm, may be required in beverage plants, breweries, wineries and restaurants. Medical supplies and equipment such as endoscopes may need even higher concentrations, in the range of 3000ppm.
As a biocidal oxidizer it is largely unaffected by organic matter and generates fewer toxic byproducts (potential mutagens) compared with chlorine disinfectants. This in turn makes it ideal for municipal wastewater treatment and maintaining drinking water needed for human consumption. Its range of application is broad spectrum where it finds use in water tower treatment & the pulp industries as a paper bleaching agent or to prevent biofilm formation. Peracetic acid is relatively unaffected by water hardness and can be diluted with regular tap water.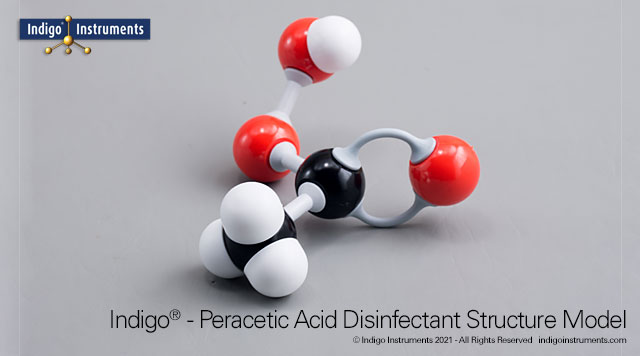 Testing for PAA can be done with different methods. The most convenient and economical are chemical monitoring strips. In particular, ones that can detect the active ingredients of PAA meet or exceed the 1500 ppm dosage range for routine use & process control.
Indigo® PAA Concentration Test Strips
Peracetic acid's versatility is often determined by contact time as well as concentration. Choose the right test strip for the job.
0-50ppm: 0.25, 0.5, 1, 3, 5, 10 ppm; read results in 10 seconds
0-160ppm: 10, 30, 60, 80, 160ppm; read results in 10 seconds
0-500ppm: 100, 250, 500ppm; read results in 10 seconds
0-3000ppm: 500, 1000, 1500, 2000, 2500, 3000 ppm; read results in 5 seconds