Food safety requirements aim to develop non-chemical strategies for postharvest disease control.
The Integrated Pest Management
approach includes plant essential oils which are environmentally safe & appeal to the perceived value-added agricultural and horticultural crops of
organic farming
.
If you know the slightest bit about metric units & find the instructions below baffling, read:
Diluting Chlorine, Peroxide or Quat Sanitizers is Easy
. If chlorine ppm calculation formulas are confusing, our
chlorine bleach dilution calculator
can prepare
any concentration
of chlorine bleach disinfectant solution for any volume, from spray bottle to bucket to pool size.
Of course, if you can actually make sense of the chlorine dilution formula below, you can safely ignore the suggestions above!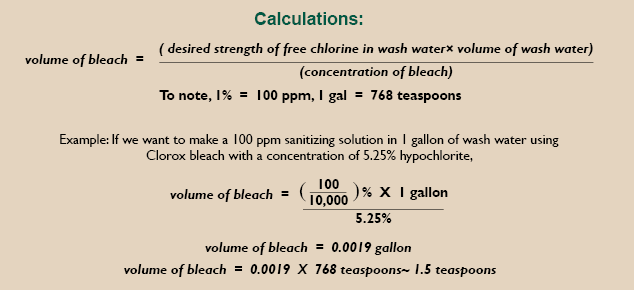 Related information or images
Results in 5-10 seconds with readings at 25, 50, 100, 200, 300 ppm for free (available: HOCl & OCl
-
) chlorine bleach concentration. This strip has a detection limit of 2-3 ppm.
Indigo® test strips have a guaranteed minimum 3 year shelf life but the desiccant lining typically provides 5+ years.
For technical explanation, read: Sanitizer Test Strip Expiration; Good Today, Dead Tomorrow?
These strips measure free (available) chlorine
The number of strips (100) per vial is approximate.
Test Strip Documentation

Stability Statement
Certificate of Analysis
SDS
Calibration Fluid CoA
Indigo® brand chlorine test strips are Made in USA & tested for accuracy using NIST compliant standards.
The high chlorine test strips are handy for operators to measure Free Chlorine levels to ensure adequate dosages have been achieved when disinfecting watermains and cleaning storage facilities. They arrived very quickly.
— LindaT
I am glad these are packaged in a container; we have had some in the past packaged in a paper envelope (from another company), which is hard to keep dry. They work just as advertised - the only imperfection for us is that the colors are fairly similar and it can be hard to tell at a glance what the result is. Otherwise, great.
— Lettuce
These Chlorine test strips are great when you need to measure Free Chlorine levels in water at high levels of concentration.
— Great product, arrived quickly.