The color chart has ranges for sanitization (50-200ppm) & disinfection (500-800ppm). 800ppm is considered the maximum level for child safety in the event of ingestion.

Use our free Chlorine Bleach Dilution Calculator to calculate the amount of bleach & water needed to prepare any ppm levels. You can use any concentration of chlorine bleach to prepare a sanitizing/disinfecting solution but as an example the video shows an 8.25% solution diluted to produce 650ppm (the midway point of 500-800ppm for disinfection as shown on the color chart).

Note: the video below has references to our original domain, indigo.com. Please ignore and bookmark us at www.indigoinstruments.com.
You may also want to look at the following 2 pdf files from the State of California for "
Sanitize Safely & Effectively
" & "
What is Safe & Effective Use of Bleach
"
Cleaning/Disinfecting
Sodium hypochlorite is the most commonly sold form of chlorine disinfectant. Chlorine and bleach are used interchangeably but dissolved chlorine comes in different forms. The type used for disinfection and in your laundry is sodium hypochlorite. The term bleach originally referred to the chemical reaction that remove stains or color from fabric.
Daycare/Preschool/Childcare Cleaning/Disinfection Checklist
Are you involved in keeping a daycare, preschool or childcare facility clean and safe? Try our handy checklist for areas to cover and tips on how to ensure you are doing it properly by testing with our test strips. Having trouble figuring out dilutions properly? We have dilution calculator to make it a lot simpler. A more detailed version in PDF format is ready for print or download.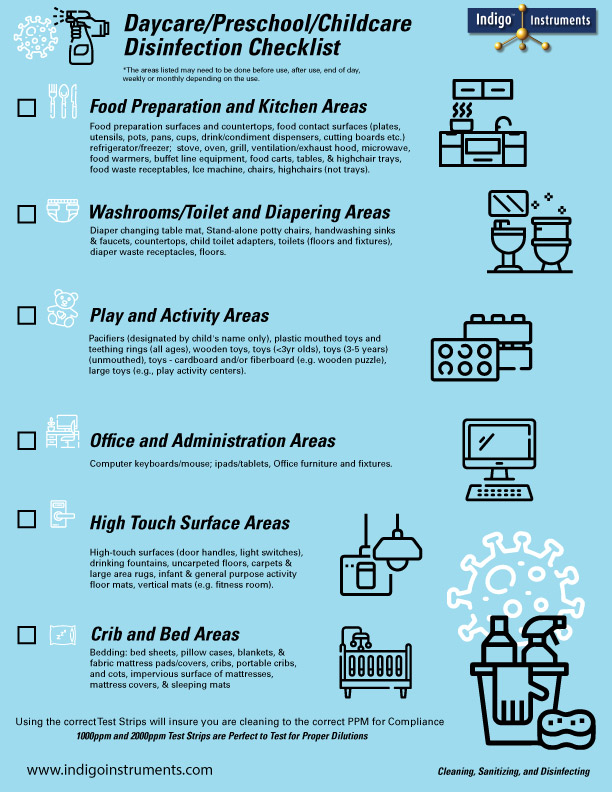 Results in 1 minute with readings at 25-50-200-500-800-1500-2000 ppm for free (available) chlorine bleach concentration.
Indigo™ test strips have a guaranteed minimum 3 year shelf life but are stored in desiccant lined vials so actual shelf life can be 5+ years.
For technical explanation, read: Sanitizer Test Strip Expiration; Good Today, Dead Tomorrow?
These strips measure free (available) chlorine
The number of strips (100) per vial is approximate.
I write this positive review as a private researcher. My career spanned five decades at the University of California at Berkeley as a manager of shared research facilities. I treasure no nonsense solutions to problems. I am pleased to write a review for Indigo Instruments which is positive. The company's a pleasure to do business with and their test-strips have greatly simplified my efforts in Andean orchid preservation using asymbiotic in vitro propagation.  Robert Hamilton,  Berkeley, CA  
— RMH
Great web site. Impressed with quick delivery. Will definitely be ordering again
— Bob
Easy use of website, Quick delivery. Great customer care.
— Ruth
Happy to help with the testing needs of your company.
We operate an Adult Daycare program and our local supplier, for these strips, stopped carrying them in the strength we needed several years ago. I found Indigo online and we get fast, efficient service with good pricing. Website is very "User Friendly". Very satisfied with this Vendor.
— Connie
Excellent website, and quick delivery. Very happy with service.
— Stu
I ordered this product for my child care center. The order arrived quickly and the product worked well.
— Sr. Paul Mary