Vitamin C Test Strips 100/Vial

Getting enough Vitamin C? These test strips give fast accurate results for ascorbic acid levels in fruits, vegetables, juices & even urine; only $19.95 pack/100. Compare our 100 strip price to packs of 50; save 40%.

Be sure to check the Details & Specifications Tabs below to make sure you use these correctly.




Related Products
For each Related Product, enter the quantity you would like to order and click the Add to Cart button beside the item.
Quantity
Product/Description
Price (EACH)
Current Reviews: 1
These test strips are calibrated to measure vitamin C from tablets that are dissolved in water but can be used for fruit, vegetable juices & even urine.
Vitamin C levels are shown as percentages where 0.01% equals 10mg/100ml & 0.1% equals 100mg/100ml. A 1000mg vitamin C tablet dissovled in 1000ml of water should give you are reading of 0.1%.
The Specifications tab shows a special color chart that shows what to expect if there is a lot of citric acid in the juice. The citric acid can make the strips look more purple than blue. If you are interested in testing the acidity of different fruits, try these pH 0-7 acid test strips.
Fruit juices that claim 100% or more of recommended daily allowance (RDA) may read higher than the strips can measure so you might need to dilute the juice. e.g. 9 parts water & 1 part of juice will reduce the concentration to 1/10 the original.
Acids in Fruit Chart
Follow this link for a list of names of Acids in Fruits and Vegetables, Any of these acids can affect the response of the test strips although citric acid should be the most prominent. If you are interested in testing the acidity of different fruits, try these pH 0-7 acid test strips.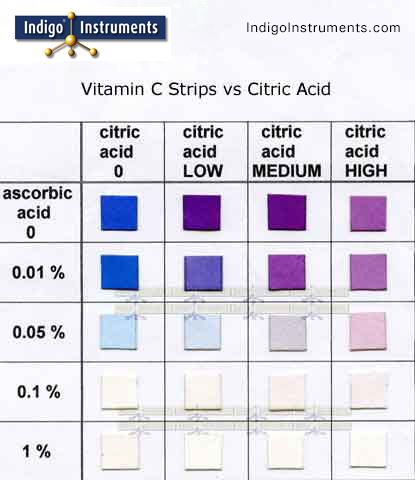 5 Stars 2017-09-06
-Denny Meredith
I purchased this product to monitor urine levels of ascorbic acid after beginning Liposomal Vitamin C. These test strips are an indispensable tool to verify that, yes indeed, Liposomal Vitamin C greatly increases blood levels of Vitamin C. Anyone in doubt on the subject of Liposomal Vitamin C can easily and inexpensively confirm for themselves how effective this method of administration actually is. I heartily recommend these test strips to anyone considering Liposomal Vitamin C as an addition to their daily diet. Liposomal Vitamin C works and these test strips confirm it.
---
Review this Product Now!