All our test tube racks have space to project your brand or message while making interesting & unusual gifts, trade show displays, desktop stationery supply holders & more.
The large white plastic test tube rack (top middle, is now
special order only
.) It is made from autoclaveable polypropylene with 12 slots for 32mm (1.25") diameter objects, in this case a test tube with a USB cable & several bottles of liquid. It has room for 2 messages both at the front & on the sides. Make them all the same or different!
The bottom row has plastic racks for smaller
18x150mm (3/4x6") test tubes
or our smallest
13x100mm (1/2x4") test tubes
. These both have room for a
decal (sticker)
on each end.
The smallest rack shown in the middle holds 15mm diameter objects, in this case 10 different types of
test strips
including litmus paper, phenolphthalein, taste & chlorine. This one is ideal for trade show displays. Please note that it is not currently listed for sale on the website.
Note: We sold our original domain, indigo.com, in January 2018. Please ignore reference to it in the image below. Our current domain is indigoinstruments.com.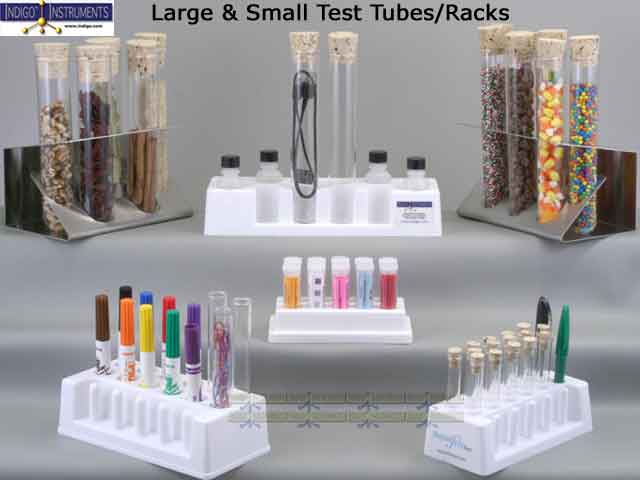 A important feature of all these is that they can be custom imprinted. The plastic racks can also be silk screened but a more cost effective method especially if more than one color is involved are the full color decals. They use a high tack glue & can be laminated to make them dishwasher safe.
See our
25x150mm test tube
, the most popular size, which been used as flower vases, spice holders or party favors in different racks. See our
blog
for more ideas on science items as
gifts or company & product promotion
.
The top row shows 2 metal test tube racks which have been discontinued.